On August 26th, I had the privilege of photographing the military retirement and celebration of Lt. Colonel Jay Martin who served in the Air Force for nearly 23 years. I have the family's permission to show you the full album of my documentation of their momentous day. In the album, you will see a surprise reunion with Mr. Martin's beloved Aunts; the solemn retirement ceremony at Davis-Monthan Air Force Base, and a super fun celebration at Culinary Dropout. You will feel directly the love and respect this family and their friends have for each other. The album contains 373 images spanning nearly 6 hours of coverage.
As an event photographer, it is my responsibility to pay attention to every nuance of people's interactions, the mood and details of the event, and to continuously anticipate what will happen next so that I'm at the ready to capture it. I recognize the sacred duty and honor of, as well as my responsibility in, creating visual family mementos. I offer flat rate packages that are all inclusive of the hours of photography, my post production on the imagery, 2 sets of the digital assets (one for print media and the second for social media posts), and mutual use licensing. Whether you have a special family event or want to document your business/corporate/non-profit functions, I welcome the opportunity to speak with you about your photography needs.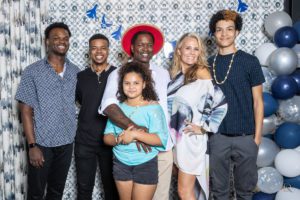 Mrs. Martin's testimonial regarding my event photography services:
"Kathleen's work on my husband's military retirement exceeded our EVERY expectation! We had two separate events that required photography. She was more than willing to set up a fee arrangement and schedule to accommodate both the ceremony and evening reception. From the very initial communication, she exuded professionalism and an intent to understand what we needed. I was put at ease that she truly understood us, and what we needed to capture this very significant life event.
Her ability to seamlessly document, every candid and special moment is like nothing I've ever experienced. She prides herself on capturing the essence of an event and that she did! Her dedication to her craft as an artist makes her photography that much more special. Our friends and family all commented on how we all felt like we'd known her forever, and she fit right in. This enabled her to capture the authenticity of moments. We all were continually amazed at how it appeared she was everywhere at once.
After the event, she communicated quickly about the next steps and what to expect as far as proofs. She had a very exact and understandable plan to distribute the photos. We are not only beyond in love with her work and photos from the day of—we truly enjoyed her presence. It has been an inspiring experience—to say the least! We can't wait to find other ways to have her come out again."