I am delighted to share with you that 3 portraits from my series, Tucson Black Voices, have been selected for the University of Arizona Museum of Art virtual exhibit entitled, "Picturing 2020: A Community Reflects."
From the museum's website:
"The year 2020 is a watershed moment for Tucson and the world. The coronavirus pandemic has affected every country across the globe; the resulting economic instability and impoverishment continues to ravage the working class; brutal incidents of systemic violence against George Floyd, Breonna Taylor, Tony McDade and many other QT+BIPOC inspired a sweeping movement for racial justice; and a highly-charged political climate advances into a presidential election this fall.
Picturing 2020: A Community Reflects is an online exhibition featuring works by more than 150 artists from across Southern Arizona. These works depict our community's myriad experiences with the destabilizing events of this year – differing in medium and style but sharing themes like isolation, resistance, resilience and hope."
My entry can be found on page 8 of the virtual exhibit.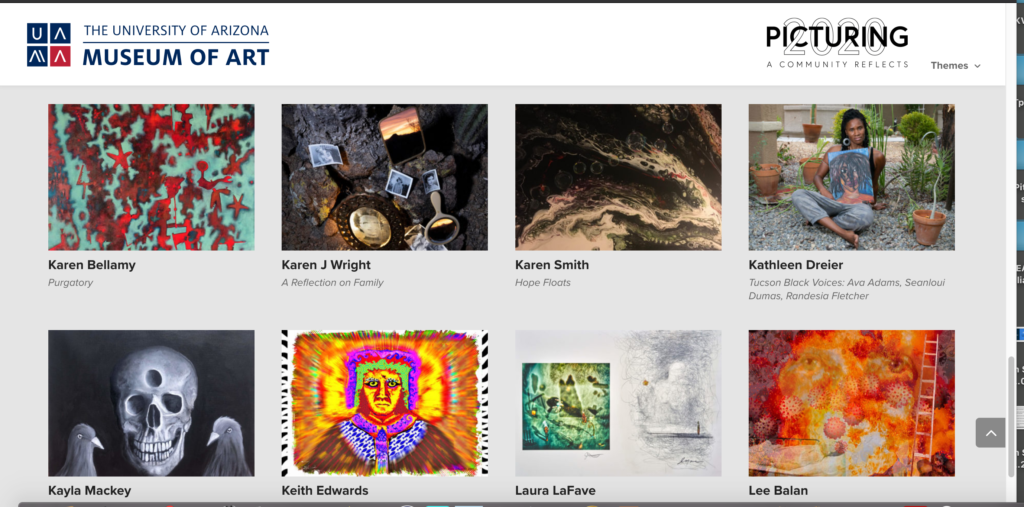 The exhibit will run from 09/26/2020 through 03/28/2021.
Please mark your calendars for 12/17/2020, 4pm MST when the university will host an artist panel. I am deeply honored that I have been asked to join other artists to speak on our bodies of work as a reflection of the present time we are all navigating. I will share another post here and on my other social media pages when registration opens.