I would like to share with you a story about a recent photography assignment which was one of my most unusual client requests:
On 12/20/2021, I received a phone call from Patricia, a grandmother living on the East Coast whose granddaughter, Nicole, was graduating the very next day from the Correctional Officer Training Academy (COTA) here in Tucson. Pat found me through a Google search, explaining that Nicole was alone in Tucson with no family present to cheer her on during her graduation. Pat shared that Nicole's life hadn't been without challenges, having lost her mother when she was a teenager. Pat had the wonderful idea of asking me to secretly photograph Nicole's graduation without Nicole's knowledge. Nicole had to leave immediately following the ceremony to drive to Phoenix to catch a flight home. Pat had planned to print out the images and share the fun surprise with Nicole during their Christmas holiday gathering.
I was honored to be in on this very special secret mission. As an added bonus, one of my students tagged along recording the ceremony on my camera phone. We both sat in the top row of the small auditorium. It was clear that I was the only person in a room of approximately 120 people with professional gear; however, no one asked us who we were. It was fun to navigate in, through, and out of the space creating lasting visual memories for Nicole and her family. One day far in the future when her grandmother is no longer on earth, I imagine Nicole will recall with fondness and love, the great effort her grandmother created to have a de facto presence at Nicole's important career milestone. Understanding the weight of this responsibility, I consciously embodied being the incognito family witness throughout the ceremony on 12/21/21.
Here is a cross-sampling from the 80 images or so Nicole and her family received (brief description is found above the image).
Moments before walking in with her classmates, Nicole stands outside in what appears to be a moment of reflection. I took this image with my telephoto lens, standing about 35 feet away from her.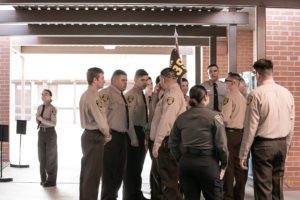 Nicole walking in the auditorium with her fellow graduates.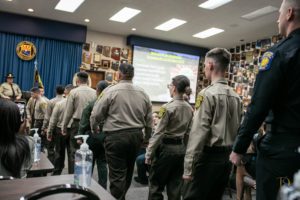 One of Nicole's classmates delivers the class speech, recognizing the achievements of various fellow students. Of the very petite Nicole, he said that she surpassed everyone in the drill in which the whole class was covered in pepper spray, citing what one of the commanders relayed after the exercise,  "the smallest dynamite packs the biggest punch."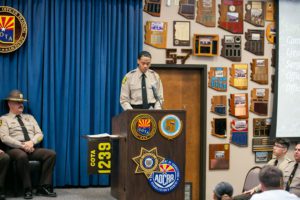 Nicole receives her Correctional Officer pin.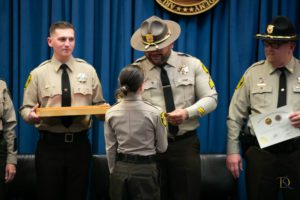 Nicole and her classmates take their Oath of Service.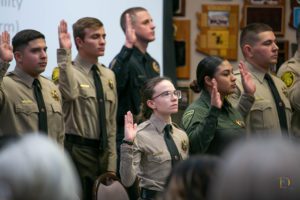 Congratulations and hugs ensue after the graduation ceremony.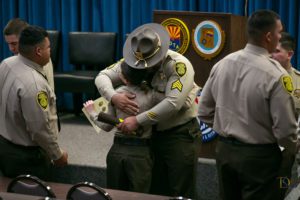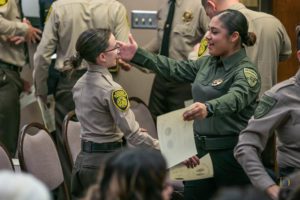 As I was packing up my gear, Nicole stood literal inches from me. I wanted to try to capture how close we were to each other without her knowing that I was there solely for her. My camera was at my thigh level. I angled my camera up and depressed the shutter without knowing what I would capture. Here is the image: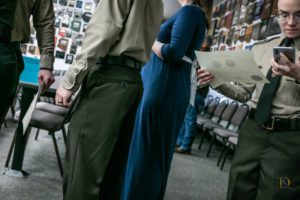 Nicole promptly leaving following her graduation to drive to Phoenix to catch an air flight scheduled in the mid-afternoon.